Unlock quick funding for
short-term property transactions
Unlock quick funding for short-term property transactions
The partner of choice for sellers, cash short-asset rich businesses, conveyancing firms, property traders, real estate agencies and property developers across South Africa.
Property Bridging Finance
Short-Term Business Loans
Asset rich but cash flow poor?
Get short-term funding to take advantage of that business opportunity.
Get funding to kickstart your project or complete your development.
Just sold your property? Get a quick cash advance of up to 75% of your net proceeds.
Awaiting a payout on a further or new mortgage on your existing property and need a quick cash advance against your net mortgage proceeds? We've got you covered.
Rates clearance figures payable to the council? Don't sweat your bank account. Bridge it against your net seller's proceeds.
Just got your signed OTP? Assist your seller in securing the funds they need to cover transfer duties and costs against your net seller's proceeds.
Property Traders – unlock your portfolio growth! Get more buying power for property auctions.
Estate Agent Commission Advance
Short on cash and just sold a property? Get a quick cash advance on your pending commission.
Are unexpected costs payable to the council? Put an end to transfer delays with a quick cash advance.
premier funding solutions
The first short-term loan facility for large-scale asset-rich, cash-flow-poor businesses!
Opportunity waits for no one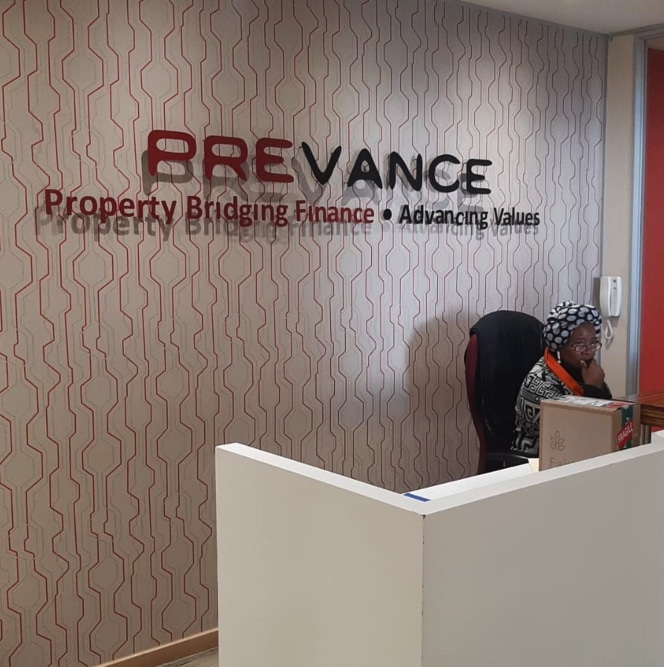 As a specialist provider of property bridging and short-term property finance, we have become the preferred partner across South Africa, helping our customers unlock growth opportunities for themselves, their businesses and their clients.
Premier, personalised service.
Credit checks don't exclude you from qualifying.
Same-day payouts where applicable.
Deep industry knowledge.
Hassle-free property bridging finance.
Three Steps To Finance Your Next
Big Opportunity
Frequently asked questions
Eloise Henkel
Rayne, thank you and your team for the prompt and efficient service. I will definitely recommend you!
Lutchmun Sanjeev Boyjoonauth
Rayne, thank you and your team for the prompt and efficient service. Will recommend your services to my cllients as well.
Alain Allen
Thank you Prevance for your professional service in providing what was needed. I definitely recommend Prevance services to others as well